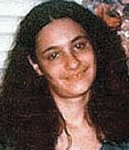 A bill named after Audrey, H. R. 271, calls for extending the Missing
Children's Assistance Act to include adults who have a mental age of less than 18 years. According to WashingtonWatch.com, on May 9 of this year, it was referred to the House Subcommittee on Healthy Families and Communities. This is listed as the "Last Major Action" on this legislation. To learn more about the Audrey Nerenberg Act, visit
http://www.washingtonwatch.com/bills/show/110_HR_271.html
. The website also allows members to voice their opinions on laws; according to its poll, 57% are in favor of the act and 43% are against it. Why would that many people be against it? Perhaps they agree with the comment of one user who does not see how a person's mental capacity could be established as less than 18 years old. What do you think?
Anyway, though, the main purpose of this post is to talk about AUDREY, to generate attention for her in hope that it might help lead to her being found, preferrably alive and safe.
Here is her story, from
The Doe Network
(also the source of the above photo and age progression):
Audrey Lyn Nerenberg
Missing since July 15, 1977 from New York City, New York County, New York.
Classification: Endangered Missing
Vital Statistics
Date Of Birth:
September 24, 1958
Age at Time of Disappearance: 18 years old
Height and
Weight at Time of Disappearance: 5'4; 115 pounds
Distinguishing
Characteristics: White female. Brown hair; brown eyes.
Marks: She has
freckles on her face, shoulders, and hands.
Clothing: Cut-off dungaree
shorts, a blue tube top and open-toe clear plastic shoes at the time she was
last seen, as well as $2 to buy a pack of cigarettes. Nerenberg was also
carrying a small brown shoulder bag.
Medical Conditions: Nerenberg has been
diagnosed with hebephrenic schizophrenia. Nerenberg was taking the medication
Torrozine when she disappeared.
Dentals: Available. She has a small gap
between her upper front teeth.
Circumstances of Disappearance
Nerenberg was last seen leaving her family's home in Brooklyn, NY on July
15, 1977.
Nerenberg had been hospitalized for brief periods of time in several New
York City borough medical facilities from 1974 - 1977 due to hebephrenic
schizophrenia. Nerenberg was an outpatient at Kingsboro Psychiatric Center in
Brooklyn at the time she disappeared. She did not carry any identification or
medication with her at the time she was last seen. Audrey, who liked shopping at
Kings Plaza, had sometimes gotten lost close to home but always had the presence
of mind to call her father for help.
She may be listed as an unknown patient ("Jane Doe") in a psychiatric
hospital somewhere. Extensive inquiries into New York hospitals by the NY Police
Department have been futile.
Nerenberg accompanied her family to the borough of Staten Island during the
evening of July 14, 1977, the day prior to her disappearance. They watched a
movie at the former Jerry Lewis Theater on Forest Avenue in Mariners Harbor on
the Island.
She enjoyed shopping, music and dancing in 1977.
Investigators
If you have any information concerning the whereabouts of Nerenberg, please
contact:
New York City Police Department
Missing Persons' Squad
212-473-2042
Agency Case Number: 13606
NCMEC #:NCMC603933
NCIC
Number: M-742560258
Please refer to this number when contacting any agency with information
regarding this case.
You can print a poster of Audrey
here
.